Welcome to McCarrie Homes
McCarrie Homes is owned and operated by John and Caren McCarrie, fellow residents of Eagle Rock who are now celebrating their 18th year here.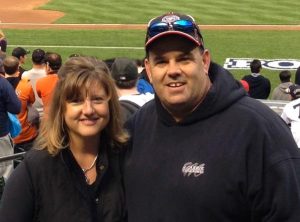 Originally from Yardley in Bucks County, Pennsylvania, we built our first home in Eagle Rock in 2005 as a vacation home. It became our forever home a year later. As full-time residents, we have a strong and vested interest in the construction quality and type of homes that are built in our community. In business since 2006, McCarrie Homes has now built more than 100 beautiful homes. Both of us are very proud of all those homes, including our own at 7 Locust Circle on the 11th tee box of the 18-hole championship golf course.
John McCarrie got his start in the residential construction industry almost 40 years ago while framing homes at the age of 15. After attending Indiana University of Pennsylvania, John started his business, American Contractors, as a builder/remodeler in Bucks County, where he worked for 10 years before joining Centex Homes in New Jersey. As a construction field manager, he earned multiple Field Manager of the Year awards for exceeding production goals while receiving the highest satisfaction reviews in JD Powers surveys from the homeowners in his developments.
John quickly rose to the position of area construction manager, managing production of an average 700 homes per year of several highly customized neighborhoods and ensuring quality standards for the entire division. Through this management experience, he gained additional knowledge in best construction practices. He then became director of safety for Centex Homes. He earned OSHA Trainer Certification in Occupational Safety and Health Standards for Construction Industry by completing the OSHA 500 certification at Rutgers University. John held training for 150 employees in the 10-hour OSHA certification program and conducted safety inspections at all developments under construction. His safety training includes an OSHA Trenching and Excavation Operations Certification in 2005 by Purdue University and a Certification in Storm Water Management in 2006.
John is also trained as an International Building Code state building inspector and attends training periodically to stay current in his knowledge as Pennsylvania adopts more recent IRC codes. He attributes his success in the building industry to the high standards that he sets for himself. Since 2006, John's stellar reputation for quality craftsmanship is well known among residents throughout the Eagle Rock community. His reputation can be attributed to his extensive experience and strong background in the residential building industry, a combination that is unmatched in northeastern Pennsylvania.
Caren McCarrie is the president and chief financial officer of McCarrie Homes. She is responsible for managing the business operations, which allows John to concentrate solely on building. Caren earned a bachelor of science degree in finance from Rider University, Lawrenceville, New Jersey, and a master of business administration degree from LaSalle University, Philadelphia. Before McCarrie Homes was founded, Caren developed an extensive background in corporate accounting and financial analysis with a variety of mid- to large-sized corporations, most notably K. Hovnanian Homes' Pennsylvania Division, Dow Jones & Company and New Jersey National Bank, just to name a few. Caren handles contracts, marketing, finance/accounting and purchasing for McCarrie Homes. She is also available to help facilitate the décor selection process as much or as little as homeowners may prefer.
Building your home, the McCarrie way.
Ready to build your new home?